We are excited to offer several optional additions to your 2018 vegetable CSA share this season.  These options are all sourced from other farms in the local community, because while we'd love to do it all, we'd rather focus on the craft of growing great veggies and let our neighbors take care of the rest.  The easiest thing to do is select the options on your CSA registration form when you sign up.  You can also always add something later if you change your mind.
---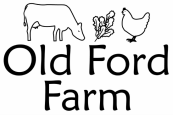 Eggs:
22 weeks, for $121 ($5.50 per week)
Those who opt for the egg share will have a fresh dozen eggs waiting for them at every pick-up.  This year we are switching to a new partner farm – Old Ford Farm in Gardiner.  Old Ford's chickens are out on pasture, where they join the farm's dairy cows and pigs in searching the ground for tasty morsels to supplement their feed.
---
Fruit:
22 weeks, for $308 (full) or $170 (half)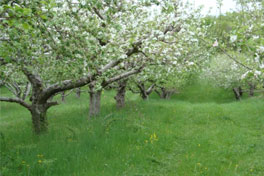 Our fruit shares come from Stone Ridge Orchard, right here in town.  We're working with farmer Elizabeth Ryan to offer full shares and half shares.  Stone Ridge has been doing fruit share add-ons for many years with farms in the region, and we're thrilled to be working with them.  Over the course of the season, fruit will likely include strawberries, blueberries, sour cherries, peaches, apricots, plums, nectarines, pears. In the fall, the apple varieties include Gala, Macintosh, Empire, Golden Delicious, Winesap and others.
This season we've streamlined the process and members can sign up directly with us, just like other add-on shares.
---
Mushrooms:
10 weeks, for $70
For all you "fun guys" out there, we'll be offering a mushroom share option from Wiltbank Mushroom Farm in Catskill.  Farmer Gary Wiltbank grows Shitake and Oyster mushrooms, and the 1-quart shares will generally alternate between the two.  The ten mushroom distributions will be spread out over the CSA season, allowing for some flexibility in production, particularly during the hottest part of the season.  We will give mushroom share participants advanced notice of when to expect their mushroom share.
---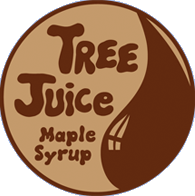 Maple Syrup:
1 delivery, at first CSA pickup, for $30 (half gallon) or $50 (gallon)
We're excited to be connected with Tree Juice Maple Syrup, of Lazy Crazy Acres Farm in Arkville, nestled in the Catskill Moutains.  They offer a one-time distribution of maple syrup in the late Spring that we'll be passing on to any interested CSA members – prices are $30 for a half gallon or $50 for a full gallon.  That's a lot of fresh, local syrup that should last a very long time!
---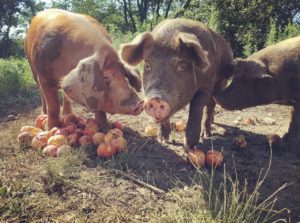 Pork CSA:
Fall Share of Pork with three size options. Single delivery, estimated late September/ early October.
1/8 Pig share (approx 15 lb) for $150 (payment not due upfront)
1/4 Pig share (approx 35 lb) for $350 (payment not due upfront)
1/2 Pig share (approx 70 lb) for $650 (payment not due upfront)
Our friend Kate is going to raise pigs at her farm Perianth for our CSA based on interest. Her Heritage Breed pigs are Pasture Raised and Organically Fed at her farm. Happily roaming in the woods, the pigs are able to graze freely for wild plants and bugs in addition to eating Organic Stone House grain.
Each share option will have a variety of standard cuts, consisting of bacon, sausage, ground pork, pork chops and some specialty cuts amounting to the value of each share. Each share is approximation because it is dependent on the final weight of the pig. The three shares options available are listed below.
We are not asking for a deposit at this time, but we ask that if you express interest now that you are intending to purchase a Pork Share in the fall. The amount of interest that is expressed now, will affect how many pigs Kate will raise. Once Kate's pigs are purchased and happily growing, we will send out an email about finalizing your purchase and putting down a deposit depending on share size. 
If you are interested in purchasing a Pork Share in the fall please write to Kate at perianthfarm@gmail.com subject heading Solid Ground CSA Pork Share and tell her what share option you are interested in, or select the option on the CSA registration form.
---
Other: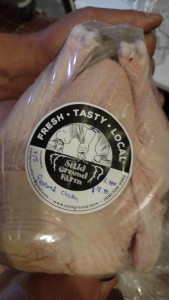 Chicken: We also have fresh chicken raised on-farm available for sale four times over the course of the season.  We pasture-raise our Freedom Ranger birds, and feed them non-GMO feed.  We will give advance notice of upcoming chicken availability before our processing days – chickens are available to all, although priority is given to our veggie CSA members.