We're excited to offer a diverse veggie CSA share for the 2018 season – bring home a bountiful variety of in-season vegetables every week with Solid Ground Farm's CSA.  We will have pick ups on-farm at Hidden Valley Road in Kingston.

In an effort to meet the needs of different family sizes, we offer two share sizes, which are determined using a customizable point system.  This means that each week, you can choose what you want.

Click the button below for site-specific information and to register: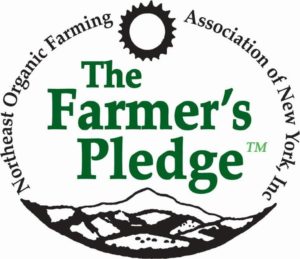 Why CSA?
Community Supported Agriculture is a way for farmers and customers to benefit together.  Members get a better price on vegetables by committing to a season-long membership in the farm, and get access to just-out-of-the-field freshness with every weekly pick-up.  Farmers can plan easier knowing they have members they can count on, and the up-front capital allows for investing in equipment, supplies, and seed at the start of the season.  And unlike purchasing your food at a store, farmers and members alike benefit from the close relationship – tell us what your favorite veggies are and we'll be sure to grow more!
What do the Shares Look Like?
Every week, the food you eat will reflect what is in season at that moment.  Although every season is slightly different, here are a few examples of what shares might look like, based on past years:
Early Season
Head lettuce
Bunch beets
Spinach
Tuscan kale
Napa (Chinese) cabbage
Bagged salad mix
Hakurei (sweet salad) turnips
Garlic Scapes
Summer Squash
Broccoli
Mid Season
Sweet peppers
Tomatoes (expect the best flavor you've ever tasted!)
Watermelon
Bunch carrots
Curly kale
Sweet corn
Eggplants
Cucumbers
Head Lettuce
Onions
Bunched herbs
Late Season
Bagged salad greens
Arugula
Bunch carrots
Cauliflower
Swiss chard
Winter squash (such as butternut, buttercup, acorn, delicata, etc)
Sweet peppers
Potatoes
Spinach
Garlic
Bunched herbs