THE 2023 SEEDLING SALE WAS A SUCCESS! PLEASE EMAIL US IF YOU'D LIKE TO BE INCLUDED IN AN ANNOUNCEMENT EMAIL FOR THE 2024 SEEDLING SALE

Have a garden of your own? Purchase your certified organic seedlings direct from Solid Ground Farm! We are back to our pre-COVID system of a real in-person seedling sale – come shop in person – we'll be on-hand to answer questions and give advice. Want to make plans ahead of time? Check out the complete list of everything we're growing below so you can come prepared with a wish list.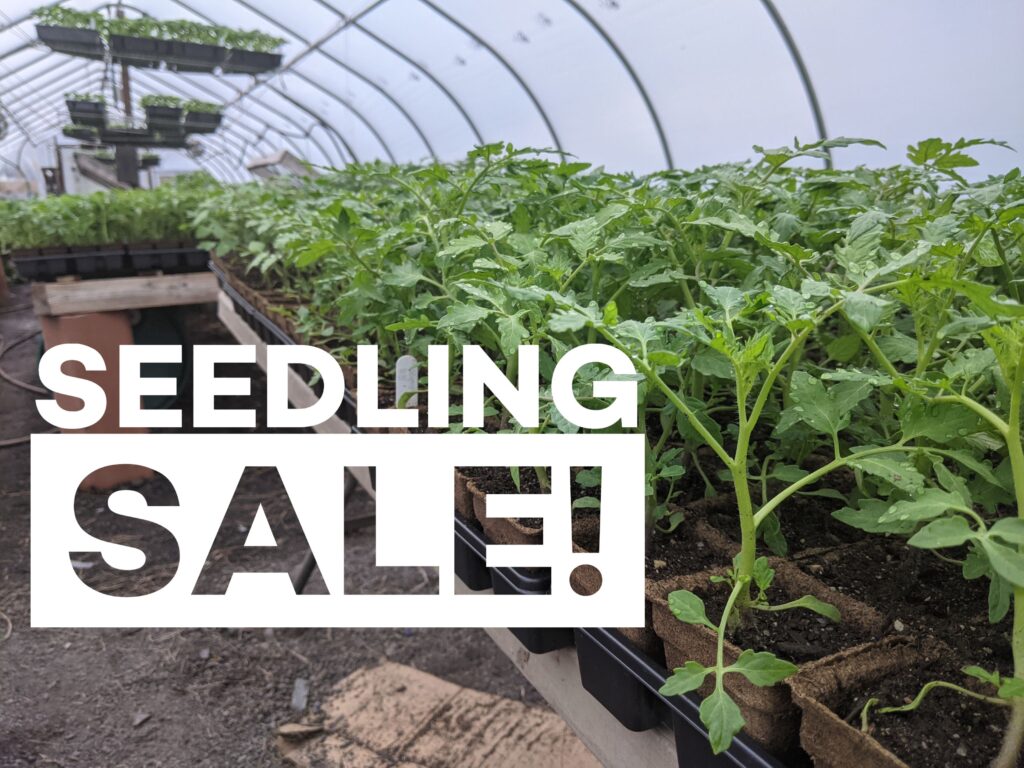 We have:
Greens (in 3-packs)

Head Lettuce
Kale – Curly, Lacinato (Tuscan), Red Russian
Swiss Chard
Broccoli
Brussels Sprouts
Collard Greens
Celery

Tomatoes (in single CowPots)

Amish Paste
Aunt Ruby's Green Tomato
Berkley Tie-Dye
Black Beauty
Brandywine
Carbon
Cherokee Purple
Damsel
German Johnson
Great White
Green Zebra
Japanese Black Trifele
Moskvich
Paul Robeson
Rose de Berne
Rosso Sicilian
San Marzano
Striped German
Valencia
Yellow Brandywine

Cherry Tomato (in single CowPots)

Sungold
Pink Bumblebee
Purple Bumblebee
Sunrise Bumblebee
Supersweet
Supernova (marbled grape tomato)
Moonbean (marbled grape tomato)
Midnight Pear (marbled grape tomato)
Tomatillos

Peppers (in single CowPots)

King Arthur (bell)
Shishito
Poblano
Carmen
Madonna
Jalapeno
Habenero
Cayenne
Hungarian Hot Wax

Eggplants (in single CowPots)

Nigral (Italian)
Annina (Italian)
Pink Asian

Melons (in single CowPots)

Sugarbaby Watermelon
Sureness (yellow) Watermelon
Sarah's Choice Canteloupe

Summer Squash and Cucumbers (in single CowPots)

Marketmore Cucumber
Lemon Cucumber
Pickling Cucumber
Itachi (White) Cucumber
Zucchini
Magda (Mediterranean) Summer Squash
Patty Pan Squash
Yellow Crookneck Squash
Costata Romanesca

Winter Squash and Pumpkins (in single CowPots)

Acorn Squash
Delicata Squash
Spaghetti Squash
Butternut Squash
Kabocha Squash
Giant Howden Pumpkin
Pie Pumpkin

Herbs (in 3-packs)

Basil
Parsley
Chamomile
Lavender
Mint
Marjoram
Rosemary
Tarragon
Sage

Flowers (in 3-packs)

Calendula
Zinnias
Cosmos
Marigold
Naturtium
Rudbeckia
Sunflower
All seedlings were grown with certified organic seeds and in organic potting mix. Solanums and Cucurbit family veggies (tomatoes, peppers, eggplants, melons, squash, and cukes) are sold individually in CowPots, a biodegradable pot that can be planted directly in the ground. Other seedlings are sold in three-packs.
Location: Solid Ground Farm, 205 Hidden Valley Rd, Kingston. (located in the village of Lomontville).
Questions?: Email solidgroundfarm@solidgroundfarm